How do I balance time between my man and my friends?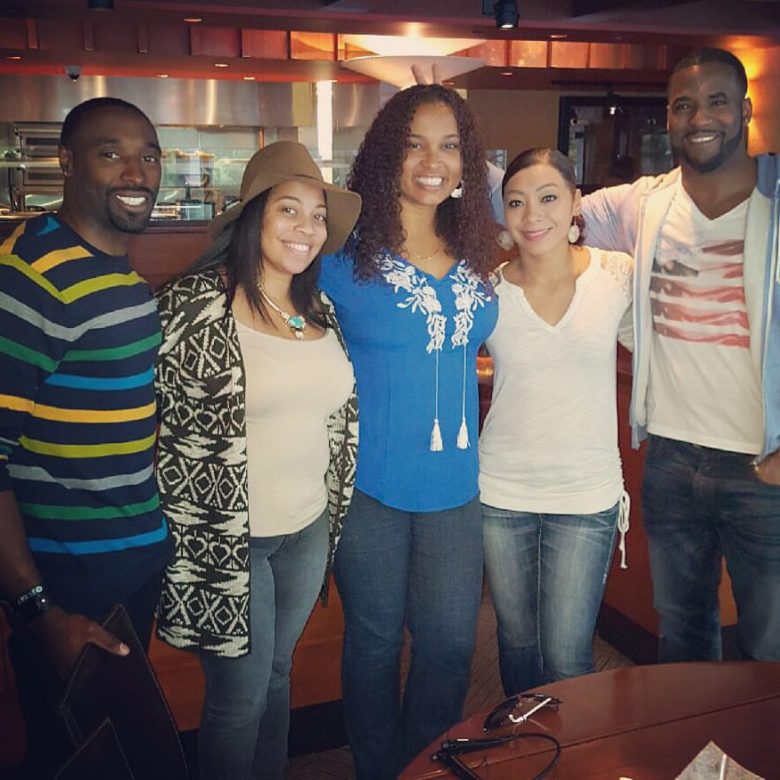 A few weeks back someone asked me the question: "So, how do you balance time between your man and your friends? I feel like now that I'm with someone, I don't spend as much time with my friends, but I don't want them to think that I'm just throwing them off to the side."
I knew exactly what she meant, because I, too, dealt with the same thing when I started dating my husband. Before him, I was that girl who thought I had to spend every waking moment with a guy; so much so, that I often neglected those closest to me. Later on, I realized that you can be happily married or be in a relationship and still have a life with your friends.
Now that I'm a married woman, of course my husband comes first, but I'd be lying if I told you there aren't times when I want to hang with my girlfriends even if it's just to be there for them. So, I would like to offer up four tips that have worked for me as a girlfriend and even as a wife.
1. Plan a date with your girlfriends.
It's inevitable that the older we get, the more life gets busy, and we don't always get to see our friends as much as we'd like. For me, personally, it's even harder sometimes to see my friends because: A) Most of us live in different cities, or B) Even though we're in the same city, we're spread out, so the distance sometimes makes it difficult for us to see each other.
That's why planning really comes in handy. When you plan in advance, it allows everyone, especially those who have children, to try and plan accordingly even though things still may come up and you may have to postpone and reschedule. That's called being flexible. One of the most efficient ways is to go ahead and pre-set a certain day or a weekend on a consistent basis. That way, you'll know ahead of time when your next date will take place and you can plan around it the next time.
Girls' Day/Night Out Ideas: Slumber party/sleepover and invite over a mobile massage therapist (massages for everyone), Brunch, Lunch, Dinner, Local festival, Retail therapy, Concerts, Painting / "Sip and Paint," Live music at a lounge, Spa day, Winery, Movies, etc.
2. Plan a double date.
In other words, "kill two birds with one stone." If you have a dear friend who is also in a relationship, a double date (or even triple or quadruple date) will easily help you spend time with your lover and your friend at the same time. It's even better if the guys have already met and have developed somewhat of a friendship or a "bromance" in some cases (LOL). That's happened to me a few times, and it's so convenient for everyone. When you're all together, you can even turn it into a mini competition, and make it so that each couple competes against each other; better yet, nothing says fun like a good 'ol battle of the sexes.
Double Date Ideas: Andretti Car Racing / Autobahn, Rock climbing, Paintball, Laser Tag, Dave & Buster's, Main Event, Game Night at the House, Dinner, Indoor Skydiving, Movies, etc.
3. Plan a girls' trip.
I'll be honest, I love going on a nice, romantic trip with my husband, but I also love to re-connect with my friends on a girls' trip. A girls' trip is a great way to catch up on life, bond, get in some good laughs, reminisce, relax, have fun, and even encourage each other about whatever may be going on in our lives at the moment. Just remember…you can't travel with everybody, so choose wisely who you decide to go on a trip with.
Girls' Trip Ideas: Staycation in your hometown, Day trip to a nearby city, Vegas, Caribbean Islands, Miami or other Florida Beaches, Mexico, International Trip, Essence Festival, Women Empowerment Workshop or Conference in another city, Hair Show, New York City, Los Angeles, Nashville, Dallas, Phoenix, Houston, Chicago, etc.
4. Just do it!   
Ideally, it would be great to plan everything as much as possible, but life happens and you can't always plan for everything. There have been times when my girls and I didn't know about a special event that was coming up, something exciting happened, or someone was going through a difficult time and really needed a friend. It's times like those when we decided to get together anyway even though it may have been last minute. Of course, I always try to update and run it by my husband first out of respect, and the same goes for him as well. As long as we have an understanding and respect for each other, we confirm that there are no other plans and no one feels neglected, then those random or last minute meet-ups will work out just fine.
Just remember that we can't expect to get and keep a man, if all of our time is spent with everyone else (the same goes for men too). There have been times when I've missed out on things or I've had to decline an invitation to go hang out with my girls either because my husband and I already had plans, or because I knew I needed to spend more time with him. So, unfortunately, there will be times when we'll have to tell our friends that we can't make it, but real friends will understand especially if they're already in a relationship and/or have children; and even if they're not, eventually they will when it's their turn.
At the end of the day, as long as there is a healthy balance of time spent between your man and your friends (and vice versa), then your man and your friends shouldn't have any issues.