10 Budget-Friendly Ideas for Celebrating Valentine's Day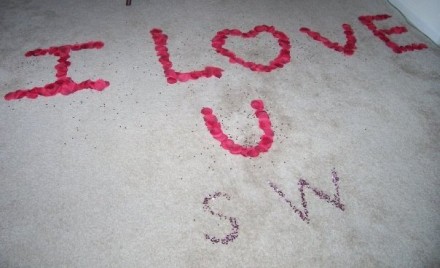 It's kind of crazy to think that Valentine's Day is almost here considering it feels like the year just started. For some of you who are planning last-minute gifts or ideas for Valentine's Day, it might be smart to go the budget-friendly route.
So, I have you covered with a few budget-friendly ideas for the special day.
Instead of going to the movies, pop your own popcorn at home and check out some of your favorite classics or movies you haven't seen from your cable provider, Red Box, Netflix or even your own collection.
Avoid the long lines at Godiva and make your own sweet treat. Simply buy a fresh package of strawberries, some Hershey's chocolate and make your own chocolate covered strawberries.
Skip the restaurant madness and cook dinner at home. If you need a little help in the kitchen, don't be afraid to ask a friend or Google some recipes.
Tired of paying $5 or more for a card that doesn't quite say what you want it to say? The Dollar Tree offers cards as low as 2 for $1. You can pay much less and still write what you truly feel. You could even make your own card using your artistic skills or express your feelings through a nice poem or love letter.
Avoid the retailers and make your own gifts. There are lots of great ideas on Pinterest, Etsy, and other sites that can help you be creative.
I'll admit, I enjoy mini getaways with my husband at hotel rooms, but if you're looking to save a little extra money turn your bedroom, living room or your bathroom into a luxury suite. Candles, rose petals, music, pillows, blankets, bubble bath, wine (or sparkling grape juice), and/or fruits/chocolate can totally transform your home into a 4-star hotel.
Go the non-traditional route and use the money you would typically use on flowers, candy, gifts, etc. to do something that both of you will enjoy or try something you've never done before.
For my ladies, do you have any lingerie that hasn't been worn in awhile? Instead of buying new stuff, bring those pieces back to life, as well as any old toys or games that you may have forgotten about.
Also for my ladies…if you don't have time or budget for an official boudoir photo shoot with a professional photographer, dress up and let your husband be the photographer instead. Just remember to delete the pictures from his or your phone and save them in a safe place. LOL!
Skip the ball or the gala and get your groove on at home. Just turn on your iPhone or iPod playlist and have your own private and intimate "ball" right in your own home.
No matter the day – whether Valentine's Day or a Monday – always cherish the time with your significant other. Make an effort to show and tell them how much you love them in your own special way.
Looking for a little more spice and romance? Check out these other posts:
"5 Sexual Favors Wives Can Try to Help Boost Their Sexual Fervor"
"6 Ways Husbands Can Keep The Romance Alive"
[facebook]
[retweet]