Real Talk From Real Couples – What #BlackLoveDoc Reminded Me About Love and Marriage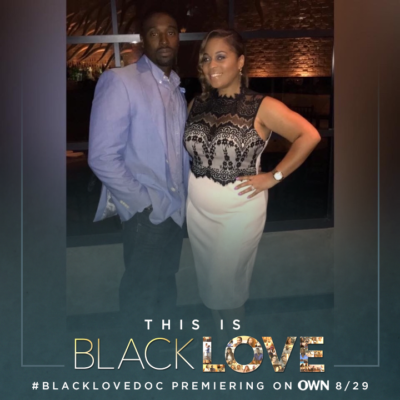 I love me some #BlackLove; not because I'm prejudice or, because I'm interested in putting down any other type of love. Trust me, I believe that God is love, and therefore love is universal. However, I embrace and I promote #BlackLove because I know how hard my ancestors fought for the right to love and be married. I refer to #BlackLove because it uplifts and encourages those of us who didn't necessarily have the luxury of seeing so many positive examples of it growing up. I know how powerful it is and I want others to be inspired by it just as I am.
With that said, it's no wonder that I was over the moon excited when the new docuseries "#BlackLoveDoc" premiered on the OWN network this past week. My husband and I were glued to the television for episodes one and two. Trust me, if you are married, engaged, or even single and considering marriage in the future, this show really captures the honesty, truth, and realities of love, dating, and marriage, but in an inspiring, endearing, and empowering type of way.
Don't allow the famous couples to keep you from watching. The way the docuseries is produced and the realness of the couples and their stories, challenges and experiences will make it seem as if they are everyday people like you and me.
With that said, let me share with you some of the most – not all – profound and introspective messages and themes I captured from the first few episodes; many of which helped further solidify a lot of the ideas and realness captured through my blogs and videos on my site.
1. Marriage is not a fairy tale.
You cannot base your marriage on what you see via social media, television, or in the movies. The more realistic you can be about marriage going into it, the better off you will be. Tia Mowry talked about how making marriage work starts with having a realistic perspective of marriage especially considering the fact that "you have a different way of living…two backgrounds are coming together." I like how a Bishop once put it by saying "Marriage is the collision of two histories, but you two can begin your own history."
Yes, marriage is hard work, but as I told someone before, success is hard work too, but for someone who really wants to achieve success, they're not going to give up on it simply because it requires more effort. Instead, they will do what needs to be done to reach that goal. Like Viola Davis said: "Marriage is that commitment – just like you get up every morning to go to the gym, it's the same thing with marriage. You gotta go for it."
2. You don't have to have it altogether to make it together (or to commit to one another).  
Cory, Tia's husband, was so honest about his struggles and financial situation when it came time to settle down with Tia. Oftentimes, a lot of men feel like they have to have it altogether before they can settle down, but Cory shared in the series that although he was overcoming certain obstacles, he wasn't afraid. He trusted that God was going to take care of him and Tia. He knew "he loved her, she loved him, and it was real," and they were willing to make it work.
Similarly, Eric and I struggled a lot during our first year of marriage largely due in part because of the recession, but one thing I didn't struggle with was the question of whether or not he loved me. Even though I wasn't the best wife during that season of our lives, because I was so focused on what wasn't versus what was, he still did whatever he could to show me how much he loved me and how much he was committed to me.
While it helps to be in a certain position or have a certain amount of money, at the end of the day, it doesn't matter as much when it comes down to two people who are truly in love and committed to each other. Viola and her hilarious credit score story is a testament to that as well (LOL).
3. Don't be afraid to communicate your standards and expectations upfront.
"I wasn't trying to be the eternal girlfriend. I was very clear on my intentions." – Vanessa Bell Calloway
 When my husband and I started dating officially, I, too, was very clear about my expectations. It's interesting, however, because prior to him I wasn't as communicative. I was so afraid that I would scare off the guy I was dating; which now that I look back on it, that was actually a good thing because it meant that I didn't end up with someone who wasn't ready to receive the love I had and clearly they weren't ready to give the love I deserved.
One of the greatest lessons I have learned is that people will either step up to where you want them to be, or they will run away (or be pushed away). Nevertheless, sometimes you have to meet people where they are or leave them there.
4. Communication isn't enough; effective communication is really the key to marriage.
"How you speak to someone says a lot…so be kind." I couldn't have put it better myself than the wife who spoke about this in #BlackLoveDoc. So many other couples spoke to this particular theme as well. I could write a whole other blog about this, but for now just know that hitting below the belt or talking down to your mate will never help diffuse a situation. Be aware of not only your love language, but also your everyday method of communication, because words can do more damage than you think. 
5. If a man wants to be with you, then he'll be with you.
I've said this a thousand times, and #BlackLoveDoc merely confirmed it. When Latoya described the time when her husband, Andre, decided to make it official with her, she was initially confused and even asked, "Who does that when they can have their cake and eat it too?"
Andre's responded firmly and said: "A man with a made-up-mind…A man whose mind is made up, knows what he wants and is ready to move forward." Andre sounded just like my husband when he said that. It is probably one of the, if not the, greatest lessons I have learned about men and love. Basically, you won't have to question if he is ready, because it will be obvious to you and everyone around you.
6. Fixing your relationship often starts with fixing yourself.
They say if you really want to get to know yourself, then get married. Marriage has a way of revealing things about yourself that you never would have realized until then. I could relate to Vanessa, Chris' wife, a lot when she discussed how she was a "strong woman" and how she realized that she didn't "have to be so manly," because she had a man. I, too, didn't realize just how much my "daddy issues" impacted my words, my actions, and even my body language towards my husband. I talk more in-depth about it in my book and on my blog, and how I have to be very cognizant of those 'red flags.'
I recently heard it best described at a relationship conference when they said: "You don't have marital issues. You have unresolved single issues." Although we will never be perfect, we can strive to continuously grow and be better than we were before by getting help when we need it – both individually and collectively.
7. There are no hardcore rules or timelines when it comes to love and marriage.
Whether they dated 6 months or 6 years, lived together or lived separately until they got married, or whether their relationship started off rocky or resilient, every relationship is different. Moreover, plans change and they don't always go in the order that you think. Similar to Jason in the docuseries, Jason had different plans when he first moved to New York, and I was the same way when I moved to Atlanta.
When I first moved to Atlanta, I was the least bit concerned about being in a relationship, let alone a long distance one. I figured I was going to date different people my first few year or two in the city, but needless to say, God had different plans. I, like Jason, met my husband only a few short months of being in the city, and as life would have it, both of us ended up marrying the love of our lives.
8. Sometimes love comes packaged differently from what you originally imagined.
One thing that #BlackLoveDoc and my own experiences have confirmed is that you get what you pray for, but sometimes that means it may be packaged differently from what we expect. I love when Ashley, a black woman married to a Cambodian guy, explained how initially she "stopped paying attention to the fact that he wasn't a black man and instead paid attention to the type of man he was." She admitted that she couldn't "pass up this good soul because it wasn't packaged the way she thought it would be."
Think about it…if you were severely parched and someone offered you water to drink, would you pass up the opportunity simply because the brand was Aquafina instead of Dasani? Ashley's story reminds us that we run the risk of blocking certain blessings simply because we're not open to experiencing new and different things. Trust and know that with God, anything – and I do mean anything – is possible. So, don't limit yourself (or even your timeline) to the type of person and relationship that you have manufactured in your mind.
I sincerely want to thank the creators and producers of #BlackLoveDoc, the OWN network, and for the honesty and transparency of each and every couple who participated. I can't wait for the next episodes!