"I Swiped Right and Found Love On Tinder" – How to Make Online Dating Work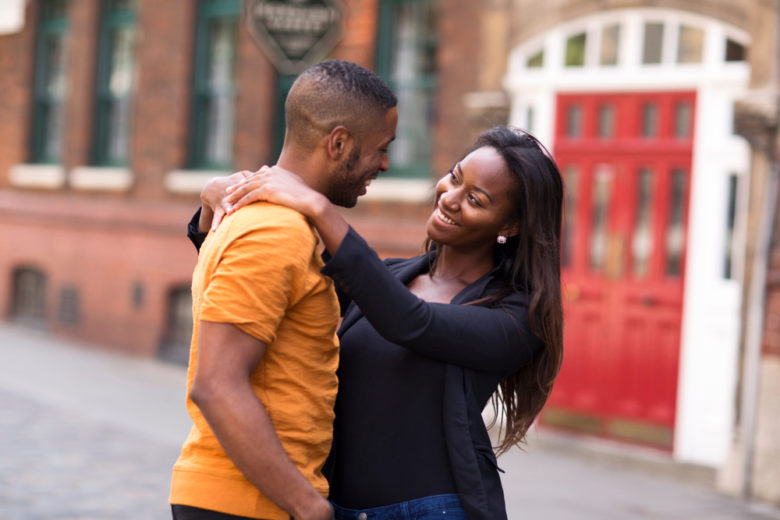 Online dating isn't new, but recent technology has allowed for even more options through a variety of dating apps including the one and only – Tinder. Contrary to popular belief, Tinder isn't just for "hooking up." Some will tell you that it is possible to meet and find love on Tinder.
Over the years, I've met so many people, including married couples, who have clearly found a way to make this online dating thing work. Personally, I tried it a few times in college and quickly realized that it wasn't for me at the time (but I found love in the Club – literally), but it still didn't stop me (and hasn't) from recommending it to other singles.
Call me a sucker for love or unique love stories, but I've always considered online dating as just another way to meet and connect with people.
In addition to some of the married couples who have been together for ten plus years, there are two ladies in particular (We will call them Tina and Tracy) who, more recently (within the last year or two), found online dating to be very useful and successful when it came to finding and dating quality, eligible, bachelors.
For the last two or so years (combined), each of them have been happily and exclusively dating. What started as a simple "swipe right" on Tinder has now turned into two loving, growing, fulfilled, and committed relationships – for both of these beautiful, educated, and successful ladies.
Since I've seen and heard so many successful stories, and because I have personally witnessed how the love has blossomed in Tina and Tracy's lives, I wanted to find out and share from some real-life women what it takes to make online dating work.
1. Have the right attitude and mindset.
As with most anything in life, your attitude will ultimately influence the outcome.
Tina: I changed my attitude about it. I knew that I couldn't go in it like "ugh." If I did, that's what I was going to get.
Tracy: You have to have an open mind about it. When I joined Tinder, I thought to myself "what's the worst that could happen." You never know…even if nothing comes out of it romantically, you could still meet some new friends.
2. Have fun with it!
Tina: I made it fun and at one point I committed to going on seven dates in seven days. I knew I had to have a sense of humor when some of the guys started showing up to meet me looking NOTHING like their profile pictures. I was like "WTH" but I was still nice to them. I can even admit, however, that even though some of them weren't what I was looking for, we still engaged in decent conversation. Plus, you never know who you may meet or who they may be.
Tracy: You can't put so much pressure on yourself when it comes to finding or meeting 'the one.' My expectations weren't so high that I took it too seriously. In the early stages, I basically turned Tinder into a "game" and had fun with it – meeting and talking to different guys.
3. Be open and willing to engage.
Tina: Ask questions. Take the Bumble app for example. Sometimes, you may have to engage first and initiate the conversation.
Tracy: Let's say you're going back and forth over a few days. Then, it's probably a good time or idea to suggest that you advance to the phone so you can start engaging in verbal conversation. Talking on the phone really helps you get a better feel for each other. Then, if that all goes well, you can meet up in person. It can be as casual or low-key as something like lunch or coffee.
4. Adapt and relax your preconceived notions.
Sometimes the very thing we want comes packaged differently from what we expect. You don't have to settle for mediocre; rather, sometimes it's a matter of adjusting your perceptions so that you not only receive what you desire, but what you need and deserve as well.
Tina: When I met my boyfriend (we'll call him Antonio), I told him that I usually date taller guys, and he responded with "well clearly that's not working out for you." Real talk – he put me in my place. I guess I was being a bit too picky, but hey – a girl likes what she likes. Nevertheless, I was open and willing to try something different. I gave him a chance, and I'm glad I did because I realized just how considerate and wonderful he was. Had I not given it a chance, I could've easily missed out on the beauty of what we share now.
Tracy: I was a little reluctant at first because my boyfriend (we'll call him Jacob) was living in a different city – more than 700 miles away. See, I tried long distance in the past, but it was, quite honestly, one of the most difficult experiences and break-ups I had ever experienced. Nevertheless, Jacob was persistent and made it very clear and obvious to me that he wanted to give this long distance thing a try….and so we did and it worked! Now, almost two years later, I get to enjoy spending time with him knowing that he's only seventeen miles away.
5. Practice patience. Things take time.  
Tina: Remember those seven dates in seven days I told you about? Well, the first few were a hot mess, but Antonio (who is now my boyfriend), was my 'Friday' at the time. Even though we chatted back and forth, he kind of blew me off initially. I was confused a bit, but I didn't sweat it especially since I had some days and dates left. About a week later, he circled back around and hit me up, but I was onto the next one. Needless to say, I agreed to go out with him again since he asked. He set something up for a happy hour at a local eatery and the rest is history.
Tracy: I consider myself a pioneer of online dating. I was on MySpace, Blackplanet and just about everything even when online dating was still considered taboo. Now, as years have passed, I never would've thought that a simple swipe right would've led me to be in a relationship where I feel a constant peace about my man and our relationship. My family says they've never seen me so happy in a relationship.
Both of these ladies will tell you, just like I had to 'kiss a few frogs before I met my Prince Charming,' they, too, had to sort through a number of guys on Tinder and other dating apps before they made what appears to be – a lasting love connection.
For the single, dating, engaged, and married couples out there, what other tips and tactics have you found that works well for online dating?